★★★★
"Two 4 One is a funny and touching, sensitively handled
and well-acted film."
 –Michael D. Reid, Times-Colonist

★★★★
"A sweet gender-bender of a light comedy…
Sensitive, subtle and truly sure-handed."
 –Brad Wheeler, The Globe and Mail

★★★★★
"One of the year's best surprises."
 –Pat Mullen, Cinemablographer.com

"Maureen Bradley's debut is a more subtle affair…
sweet and funny"
–Eric Volmers, Calgary Herald

"Everybody in this movie is wonderful."
–Katherine Monk, All Points West

"Crawford's quiet portrayal is fully realized but never forced."
–Greg Armstrong-Morris, Xtra! West

"Two 4 One is genuinely funny and sensitive…
clever and hilarious twists"
–Louis Hobson, Calgary Sun

"Engagingly shot by Amy Belling, watch for standout performances from
Gavin Crawford, Naomi Snieckus and Gabrielle Rose."
–Terry McEvoy, VIFF

"This progressive look at real-life love is refreshing and accessible…
as vulnerably sweet as it is bitingly brave."
–Heather Austin, What's Up Yukon

"Crawford is excellent… Gabrielle Rose as his supportive mother is a delight."
–Susan G. Cole, NOW Toronto

"Highly original… a cast full of great performers."
–Addison Wylie, CanScreen

"Positively fun"
–Nathan Raine, Prairie Dog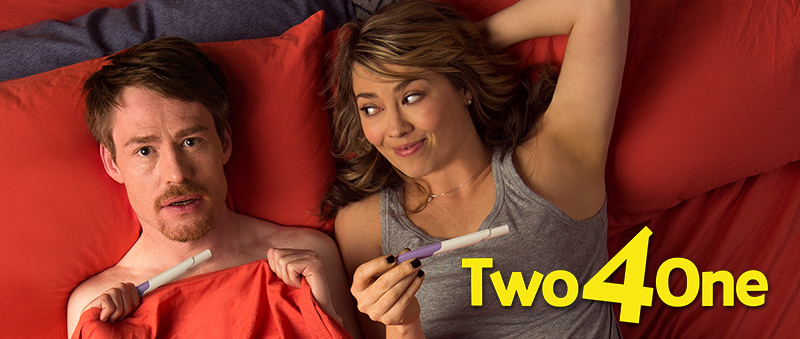 Two 4 One is a bittersweet comedic drama that sees a transgender hero in an unimaginable predicament.
When transgendered Adam helps his baby-crazy ex-girlfriend Miriam artificially inseminate, they wind up in bed together— and they both get pregnant. Now Adam must reconcile his identity and gender with his biological reality, grapple with his feelings for Miriam, and try to figure out what it means to be a man.
Maureen Bradley's award-winning debut feature stars Gavin Crawford (This Hour Has 22 Minutes), Naomi Snieckus (Mr. D), Andrea Menard (Moccasin Flats), Matt Baram (Seed), and Gabrielle Rose (The Sweet Hereafter).
Produced with participation from Telefilm Canada, Women in the Director's Chair, and Super Channel, with assistance from the BC Arts Council. Developed through NSI Features First in association with Presenting Sponsor Telefilm Canada; Program Partners The Brian Linehan Charitable Foundation and Shaw Media.