Maureen Bradley, Writer/Director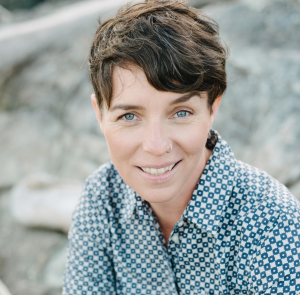 Award-winning genderqueer filmmaker, Maureen Bradley has made more than forty short films that have screened at festivals around the globe. Maureen developed Two 4 One through the National Screen Institute's Features First Program where she won the Jim Murphy Filmmaker's Bursary to direct Two 4 One.
Maureen recently produced the short 'Til Death which screened at Telefilm's "Not Short on Talent" program at Cannes 2014. In 2011, she won a Leo award for Best Web Series for Freshman's Wharf, on which she was Executive Producer and Director. She has won best film awards for her short films Queer Across Canada, Go! Dyke, Go! and Forever at festivals in Santa Barbara, Austin and Chicago.
In 1992, long before Ellen DeGeneres' famous TV coming out, Maureen beat her to it on the CBC TV series Road Movies, where she reached her largest audience of over 10 million viewers. Maureen is currently in development with the dramedy series, Delivery.
Daniel Hogg, Producer
A storyteller at heart, Daniel has won a Leo Award for producing web series "Freshman's Wharf", earned another four nominations, and won the 2012 National Screen Institute Drama Prize to write and produce the award-winning short Floodplain, selected as part of Telefilm Canada's "Not Short on Talent" showcase at Cannes 2013. With Two 4 One behind him, Daniel is finishing monstrous family short Gord's Brother with support from Astral Media's Harold Greenberg Fund, and in post-production on his second feature, The Devout, a spiritual thriller with a sci-fi twist, with the support of Telefilm Canada.
A UCLA Professional Program and UVic writing alumni, Daniel earned a development advance for his tongue-in-cheek creature-feature script Rip My Heart Out as a recipient of the inaugural Movie Central and NSI Script-to-Screen program. His western yarn Six-Chamber Heart, about an aging cowboy hunting his murderous outlaw son in the old west, was a finalist in the Praxis Screenplay Competition and a semi-finalist in Francis Ford Coppola's American Zoetrope Screenplay Competition.
Glen Wood, Executive Producer
Glen Wood originally distinguished himself as a leader in the motion picture distribution industry; in marketing at Lions Gate Films and Seville Pictures and as President of Microfilms and as the Director of Home Entertainment at Mongrel Media. In 2007/2008, Glen attended the Canadian Film Centre where he produced the award winning short ADAM AVENGER.
In 2011 Glen produced and directed In the Light for bravoFACT. It has since become the 3rd most viewed film on bravoFACT's YouTube channel and has been viewed a total of over 1 million times.
In 2013 Glen produced a series of 6 short films with TIFF and bravoFACT to celebrate the 100th anniversary of The Elgin & Winter Garden Theatre at TIFF 2013. The shorts premiered online and on mobile devices during TIFF 2013, with one film chosen to premiere before the opening night feature at The Elgin. Films in this series have played festivals including Sundance, Newport Beach, Nashville, Seattle, imagineNATIVE, Whistler and more.
In 2014 Glen produced The Dark Stranger. Written and Directed by Chris Trebilcock, The Dark Stranger was developed at NSI Features First and stars Katie Findlay ("How to Get Away with Murder", "The Killing"), Enrico Colantoni ("Veronica Mars", "Flashpoint"), and Stephen McHattie ("The Strain", A History of Violence).
Gary Varro, Production Designer
Born and based in Regina, Saskatchewan, Gary Varro wears a variety of hats including visual artist, Artistic Director for film and performance festivals (including Regina's Queer City Cinema), and Art Director and Production Designer in the film industry.
Having worked in the film and television industry for over seventeen years, Gary has worked on a variety of series and features including Incredible Story Studio, Just Friends, Moccasin Flats, The Tommy Douglas Story, The Englishman's Boy, Hungry Hills – which garnered him a Director's Guild of Canada nomination for Best Production Design in 2010 – and most recently, Corner Gas: The Movie.
As a visual artist, Gary has exhibited his installation artwork locally, provincially, and nationally, and has appeared in numerous performance artworks within the last fifteen years.
Amy Belling, Cinematographer
Amy Belling is a multiple Leo Award winning director of photography with a Master of Fine Arts in Cinematography from the American Film Institute Conservatory in Los Angeles. With director Jamie Travis she lensed the critically acclaimed short films Why the Anderson Children Didn't Come to Dinner (2003) and The Saddest Boy in the World (2006), which screened at the Toronto International Film Festival, Slamdance, SXSW, Rotterdam and Karlovy Vary. Amy shot A.J. Bond's Comic-Con 2009 award-winning short film Hirsute (TIFF 2006), Madame Perrault's Bluebeard (Clermont-Ferrand 2011), Bond's docu-fiction debut feature film experiment Stress Position (2012) and is in development on his psychological thriller Wisteria, which will shoot in Northern Ontario.
Amy is the recipient of the 2007 Kodak Image Award, the 2009 Daryl Duke Scholarship, UBC's 2010 Outstanding Young Alumnus Award, the 2011 Leo Award for Best Cinematography for Madame Perrault'sBluebeard and the 2012 Leo Award for Best Cinematography for Le jeu des soldats. She is also a Genie-nominated producer, and produced many of the above-mentioned films. More info: amybelling.com
David Parfit, Composer
Composer, musician, recordist, mixer, coder, David Parfit is a lot of things. With a degree in computer science (U of Montana) and a Master's in music technology (NYU), David's usually either writing music or editing and designing sounds for films and television. Currently playing with bands The Carlines, and Georgia Murray's new group, LIINKS, he has also created or co-created several interactive multimedia installations exhibited at Rifflandia music festival, TEDx talks, and other gallery spaces. David is best known to film audiences for award-winning films The Whale and Saving Luna. More info: www.davidparfit.com
Marc Junker, Composer
Marc is a composer/producer that has worked on a variety of film and video game soundtracks and lots of other weird stuff. He's made music for internet cats, autism intervention software, youtube channels, and regular old motion pictures. Phew! More info: junker.ca